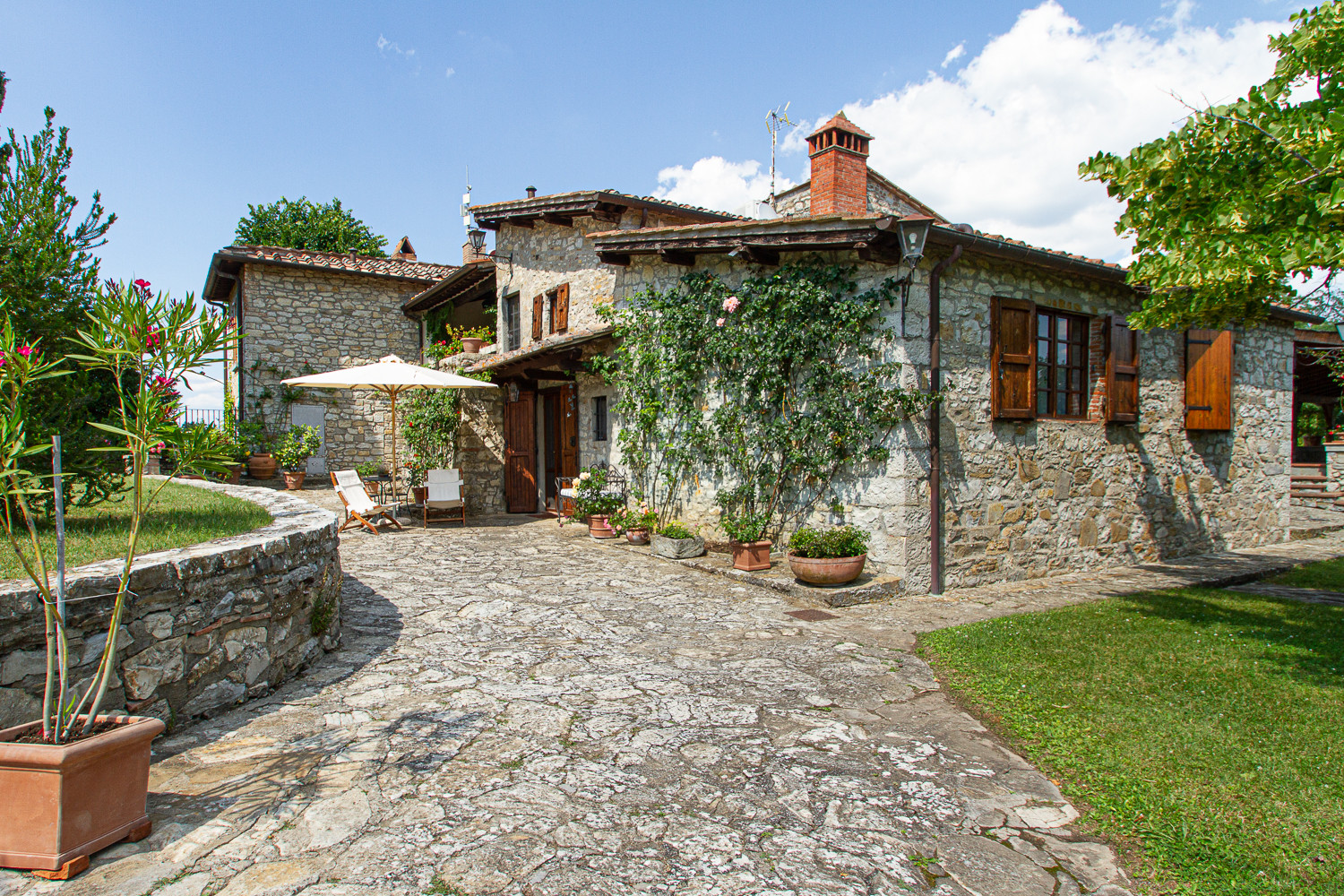 A true oasis of peace, on the highest point of a hill, surrounded by woods and olive groves, a renovated farmhouse with a typical loggia, in the classic Tuscan style.

At the highest point of the road from Radda to Castellina, immersed in the charming and sinuous hills of Chianti, Manini Group offers for sale a property in typical Chianti style with stone perimeter walls, wood and brick ceilings, terracotta floors and wooden fixtures.
When the farmhouse was purchased by the current owners in 1970, it was totally in need of renovation and, thanks to a careful redevelopment, two outbuildings were also obtained, totally livable.
The farmhouse is currently divided into several independent living units.
The first dependance is surrounded by an olive grove, which can be enjoyed from the windows that characterize it: it is about 55 square meters, a few tens of meters from the main house, and consists of living area, kitchenette, bedroom and bathroom.
The second dependance has been obtained from the old pig stables and is located a few meters from the main building: it is an apartment, about 45sqm, in which we find living area/bedroom, kitchenette, bathroom and loggia on the ground floor, with a wood-burning oven, where you can spend relaxing moments sipping a good drink, while on the upper floor there is a 45sqm terrace, totally covered, where you can have lunch or dinner.
On the front of the building, a swimming pool has been obtained.
The main building is on three sides and faces south, east and west: the north side is contiguous with another building.
The special feature of the farmhouse, measuring about 230 square meters and located at the highest point of the land on the hill, is the typical Tuscan loggia with a staircase and a colonnade leading directly to one of the bedrooms.
The main entrance is on the ground floor and leads directly into a large kitchen, connected, via three steps to a beautiful and bright living room: on the ground floor, we also find three bedrooms, one of which has a loggia and two bathrooms. The former passage room has been converted into a bathroom and built-in closets.
The staircase from the kitchen leads to the upper floor, where we find two more bedrooms, a walk-in closet and a large bathroom, which can be split into two smaller bathrooms.
Under the staircase, there are two small storage rooms, one for tools, and a room for the freezer and washing machine, as well as a water descaler.
Some masonry furniture, the built-in kitchen, and very distinctive doors will be left to the new buyers.
The three buildings are surrounded by about 3 hectares of land in a panoramic position, consisting of an olive grove and a part of forest.
The property is absolutely autonomous for water supply: two wells have been dug, the first one at 150 mt, which provides a large amount of water, both for domestic use and for the pool, while the second well collects rainwater, used for watering.
There is also a large, well-kept vegetable garden, from which to obtain seasonal vegetables.
In addition, there is a 6 Kw ground-mounted photovoltaic system, which is quite energy-saving, and a 15 sq. m. carport plus 30 sq. m. shed.
All the land is fenced because the forest is populated by a large amount of protected wildlife, ranging from deer to roe deer and even foxes.
The owners fondly remember a fox that used to take food from their hands.
A true wildlife oasis, perfect for animal lovers.
It is a property that, having started as a residential home, can also be used as a vacation home and tourist rentals that are in high demand in the area.