Positioning
Interior Design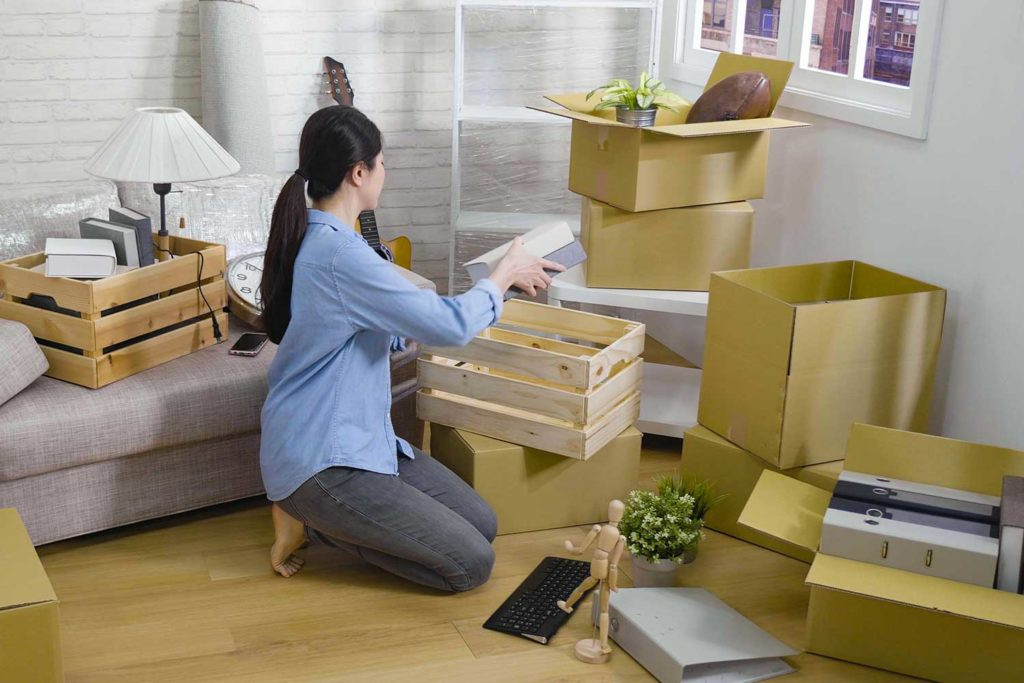 You know Mary Poppins when she says "In every job that must be done there is an element of fun", while arranging the nursery?
"Freeing up" spaces at home can be a really nice way to make room for the new, even in view of an undesirable lockdown or to prepare the house for smart working, as well as being very useful for a possible relocation,
And in the end, the specialists guarantee, you will feel better!
ADVANTAGES OF DECLUTTERING
Decluttering is an English word that means "to make room".
The media boom of this philosophy comes from the best seller "The magic of tidying up", by the Japanese writer Marie Kondo, who at the age of 30 patented a method to organize the space in her home, thus supporting to improve life too.
Among other things, the same author is back in the bookstore with Joy at work: organizing your professional life, with advice that applies her theory to every aspect of professional life, from digital space to time management, from job selection to interpersonal relationships.
But what benefit can "tidying up" give?
First of all, very empirically, eliminating the superfluous will save us not only space, to be used for other uses, but also time, the time we take to look for something at home.
Moreover, after having lightened the house, you will feel much better and in a good mood, because a clean environment generates well-being.
I closed my eyes and asked the wind for a favor: take away all that is useless. I'm tired of heavy suitcases. From now on only what goes into the pockets and the heart.
Cora Coralina
According to, "Feng Shui", which means "wind and water", freeing the house means letting positive energy flow to recover a sense of serenity, of well-being. Air and light must penetrate homes and to do so they must find space.
So why not give it a try?
HOW TO DO DECLUTTERING
There are several schools of thought.
If you don't want to be traumatized by "throwing away" things, you can start with one item a day, always being careful to do the differentiated waste collection.
Or, you can start with a small closet or a single room to avoid detachment trauma.
And why not do it with friends?
You can invite them for a swap party, and make them choose items that you want to get rid of and that they can use. With a dinner, a snack or a drink in company, again to quote Mary Poppins, the pill goes down!
Then start making a ranking of the spaces you want to clear out and then choose objects that you have not used first for two years and then for 12 months: you will be amazed to find things that have not been used for a few years, without realizing it!
Also keep only objects that give you positive feelings and do not start saying that every little thing is a harbinger of good memories, because some are really totally useless!
Prepare some boxes, to be divided into:
• Things to throw away
• Things to donate
• Things to reuse, perhaps by fixing them
Among the things to throw away, sort them according to separate waste collection, including plastic, fabric, steel, paper, etc.
When you throw away clothes, for example, keep always in mind that they can be reused, if in good condition, and throw away damaged or useless hangers.
Maybe, try to make combinations between the pieces: if you have a polka dot shirt that does not go well with any trousers or skirt, eliminate it.
Books should never be thrown away: take them to the library, donate them or leave them in the designated places for exchanging books. Or resell them to second hand books websites!
The objects you will keep will be carefully stored, so that you can find them more easily. Before putting them away, make a good cleaning of the places where they will be placed.
NO TO "MAYBE IT CAN BE USED"
With this mentality, you will not get away with it anymore: don't let the objects stop in the garage or in the attic, but get rid of them as soon as possible, giving them away, taking them to the dumpsite, or, why not, putting them for sale on the web.
If you really don't want to get rid of some things, give yourself a deadline to throw them away. Put them all in a box and, after some time, think back to how many times you have opened it: in that case, throw everything away.
Now, what are you waiting for to start? The new advances and the old… do not keep it in the refrigerator!